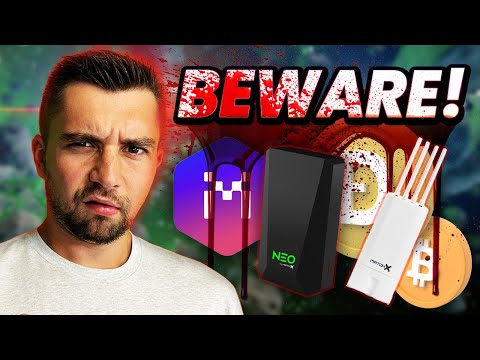 I used to be earning $12+ a day in passive income mining the MXC crypto token with the M2 Pro Miner by MatchX but is this miner actually worth buying and is MXC worth mining?! or is the MatchX M2 Pro Miner and NEO miner a ponzi scheme scam?! Subscribe to VoskCoin to find out! http://voskco.in/Sub
Learn more about MatchX and MXC miners - BEWARE - MXC Ponzinomics and the Match X M2 Pro Miner SCAM - Scam Alerts - VoskCoinTalk
Seriously read this thread before you buy a MatchX MXC miner… BEWARE - MXC Ponzinomics and the Match X M2 Pro Miner SCAM
If you're looking for a low power miner that is actually profitable than check out the best miner to buy in 2023 here! The Best Cryptocurrency Miner for 2023 | by Miss Vosk (Alexa) | VoskCoin | Feb, 2023 | Medium
Buy an evergreenminer here with the best discount - Evergreen
Join the VoskCoin Discord to discuss MXC mining asap! VoskCoin
MXC is an IoT or internet of things crypto token. MatchX has created the M2 Pro miner to mine their own token, MXC. The M2 Pro Miner is controlled by the DataDash app, and you can even increase your mining earnings by bonding DHX for years – but then MatchX added "low power Bitcoin BTC mining" and also miner fuel which drastically impacts your clearly artificial mining rewards. Let's create an updated review of the M2 Pro Miner a silent, nearly zero electric cost, and questionable profitability mining rig!

Timestamps


00:00 Mining normally doesn't change this much
01:08 Covering the MXC miners
02:10 Similar to HNT Helium?
02:55 Mining Doge with the MXC NEO?
04:22 Pivoting way too much?
05:44 Is mining MXC still worth it?
07:11 How much does a MXC network miners cost?
07:30 Is mining MXC fair?
10:00 Can you make a profit mining MXC?
11:20 Polkadot mining on the MXC network?
12:00 Where to trade MXC tokens?
12:50 Why did I sell my miner?
14:00 The DataHighway DHX token is hard to trade
14:46 What is the future for the MXC network?
VoskCoin social media and website! - VoskCoin | Twitter, Instagram, Facebook | Linktree
VoskCoin is for entertainment purposes only and is never intended to be financial investment advice. VoskCoin owns or has owned cryptocurrency and associated hardware. VoskCoin may receive donations or sponsorships in association with certain content creation. VoskCoin may receive compensation when affiliate/referral links are used. VoskCoin is home of the Doge Dad, VoskCoin is not your Dad, and thus VoskCoin is never liable for any decisions you make.
I Used to be Mining $12+ a day with the M2 Pro Miner…