I am mining Bitcoin, Ethereum, and other cryptocurrencies in my house, and I am earning over $143 PER DAY if I sell all of the crypto coins into dollars daily!
Sub to VoskCoin - http://voskco.in/Sub
Get up to $250 for FREE with BlockFi! http://voskco.in/blockfi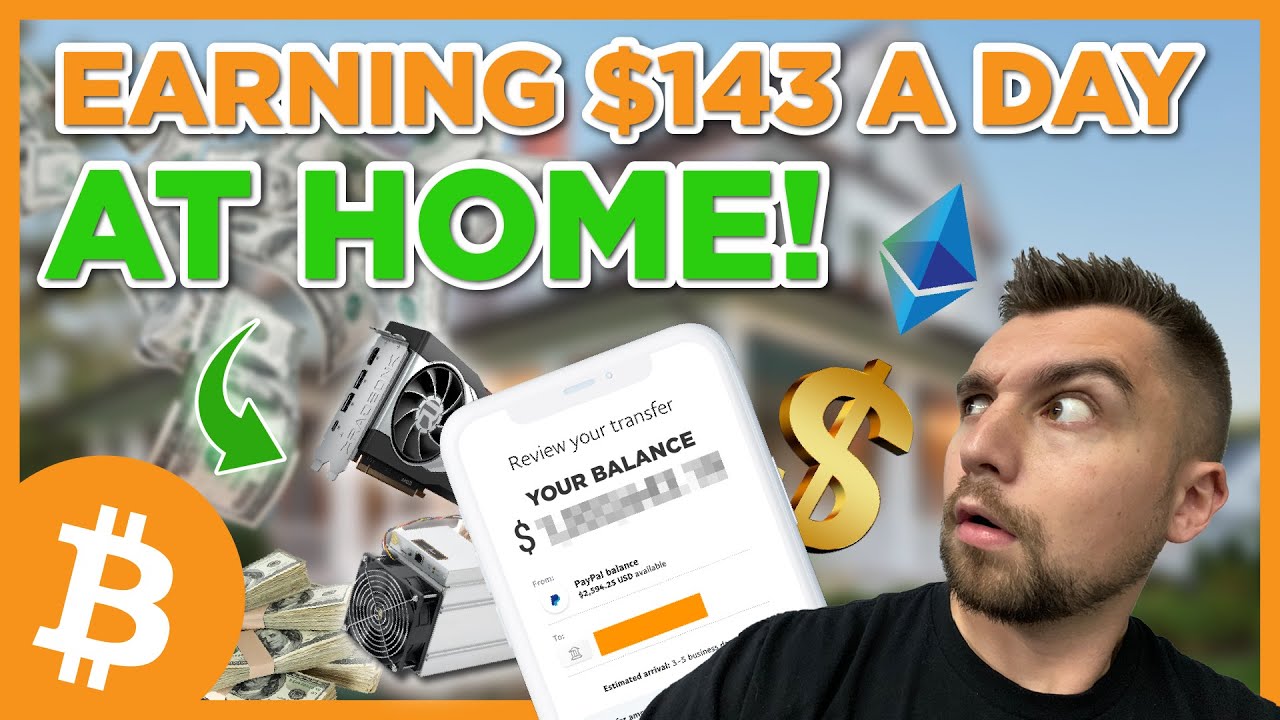 Get $25 for FREE with CryptoCom - https://medium.com/voskcoin/crypto-com-review-50-for-free-58b7287170f4
VoskCoin garage sale on VoskCoinTalk! VoskCoin Garage Sale | New and Used Crypto Hardware and Mining Rigs!
If you're wondering whether Bitcoin mining is still profitable or if Ethereum mining is worth it or if people can still mine cryptocurrencies in their homes in 2021 the answer is absolutely YES to all of the above. I am earning $143 in passive income with cryptocurrency mining BTC ETH and other crypto coins in my house. I added 30 amps of 240v electricity to my garage, along with a portable AC unit with a permanent vent outside of my garage that allows me to mine Bitcoin and Ethereum year-round. I am mining digital currencies with CPUs, GPUs, FPGAs, and ASIC miners which enables me to mine many different cryptocurrencies that I sell for my preferred coins like Bitcoin and Ethereum as well as dollars to pay my electric bill which is naturally quite high with my residential electric rate! Let's review my most profitable crypto mining rigs and how am I actually earning this much money mining at home in 2021!
Links!
The best starter crypto mining rigs from Goldshell - http://voskco.in/goldshell
VoskCoin garage sale new and used hardware - http://voskco.in/xb8y
I'm mining directly into my Hotbit exchange - http://voskco.in/hotbit
Canaan Avalonminer 1246 profitable BTC miner - http://voskco.in/1246
Bitcoin mining profitability today in 2021 - http://voskco.in/gPdA
Ethereum GPU mining profitability calculator - http://voskco.in/0LRb
Innosilicon A10 Ethereum miner profitability - http://voskco.in/2j5N
Crypto miner that never earned $51 a day BM-K1 - http://voskco.in/bmk1
New Crypto Mining Rig $51 a day profits preview - https://www.youtube.com/watch?v=_3IEp_MdQtU
iBeLink BM-K1 Kadena ASIC miner firmware - http://voskco.in/IMsR
Zcash ASIC mining rig Bitmain Antminer Z15 profits - http://voskco.in/jeeA
Goldshell HS3-SE silent crypto miner profitability - http://voskco.in/ZmEG
Thanks to Coin Mining Central for selling crypto miners - http://voskco.in/oP2W

Timestamps


0:00 I'm earning $143 a day mining from home!
1:48 Bitcoin mining rigs in action - garage sale now on!
3:57 Earn interest on your crypto with BlockFi
5:05 Crypto Mining Rig 1
6:26 Crypto Mining Rig 2
7:22 Crypto Mining Rig 3
7:51 Crypto Mining Rig 4
8:14 Crypto Mining Rig 5
9:35 Crypto Mining Rig 6
10:57 Crypto Mining Rig 7
11:45 Crypto Mining Rig 8
12:08 Crypto Mining Rig 9
13:41 What am I making per day mining cryptocurrency?
16:01 How much did all the gear cost?
18:00 What to consider if you want to start mining - my top tips
21:23 Where to buy miners? Which to buy?
23:29 Make the right decisions!
24:19 Leave us all your questions
VoskCoinTalk the VoskCoin forum - http://voskco.in/forum
VoskCoin Facebook - https://www.facebook.com/VoskCoin/
VoskCoin Reddit - https://www.reddit.com/r/voskcoin/
VoskCoin Discord Server Invite - http://voskco.in/discord
VoskCoin Twitter - https://twitter.com/VoskCoin
VoskCoin Instagram - https://www.instagram.com/voskcoin/
VoskCoin is for entertainment purposes only and is never intended to be financial investment advice. VoskCoin owns or has owned cryptocurrency and associated hardware. VoskCoin may receive donations or sponsorships in association with certain content creation. VoskCoin may receive compensation when affiliate/referral links are used. VoskCoin is home of the Doge Dad, VoskCoin is not your Dad, and thus VoskCoin is never liable for any decisions you make.
VoskCoin Drew Vosk is earning $143 PER DAY mining Bitcoin and Ethereum out of his house in 2021!