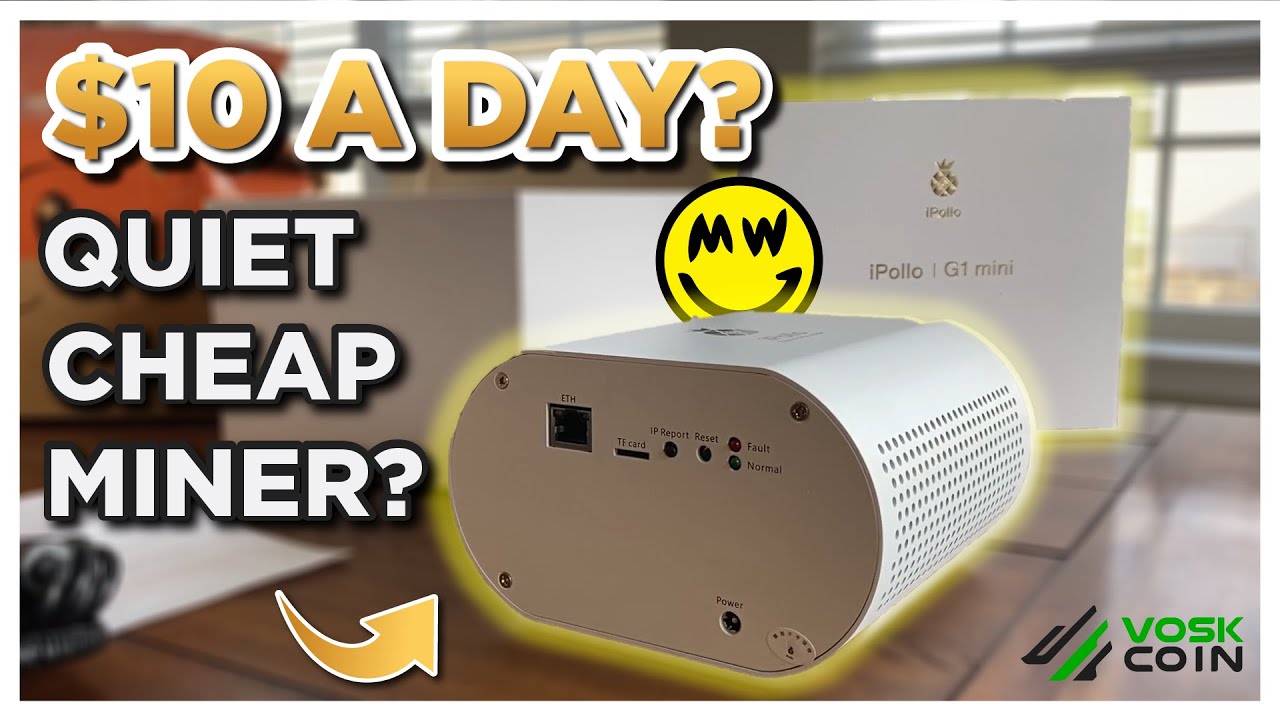 I'm earning over $10 a day with a CHEAP & QUIET crypto mining rig, seriously the best form of passive income in the world is mining cryptocurrencies. Let's review the iPollo mini Grin miner!
Subscribe to VoskCoin - http://voskco.in/Sub
Learn more about buying a crypto miner - iPollo is building the BEST grincoin GRIN miners -- Where to buy iPollo miners?
Learn more about Spectrocoin! https://voskco.in/spectro
Cook.Finance and their COOK token! https://voskco.in/cookfi
Compass the Bitcoin mining marketplace - https://voskco.in/compass
The most exciting thing about GRIN has been mining Grincoins since GRIN launched a few years ago, sure there's the mimblewimble technology and the anonymous factor that a lot of people supported Grincoin for but miners clearly have been continuing to dump GRIN instead of HODL and buy more GRIN due to the lackluster price movement over the last year as no one has been creating high price predictions for GRIN! However, even though Innosilicon bailed on releasing a public G32 GRIN ASIC miner iPollo has seized the opportunity to bring GRIN ASIC miners to market, they have apparently created a full-size iPollo G1 miner that mines over $200 a day as well as this iPollo G1 mini that mines an impressive $10 a day worth of Grincoin while hardly consuming any electricity! Let's review the iPollo G1 mini one of the best ASIC miners ever!
Links!
iPollo miner potential group buy - iPollo is building the BEST grincoin GRIN miners -- Where to buy iPollo miners?
Official iPollo miner Twitter - https://twitter.com/iPolloGlobal
Official iPollo miner website - http://ipollo.com/

Timestamps


00:00 This quiet little miner makes $10 per day?!
01:41 Mining Grin coin in 2021
02:47 iPollo Global have released Grin ASIC miners!
03:46 How can I buy one of these miners? Potential group-buy
04:29 How much does this Grin miner make per day?
05:23 SpectroCoin allows you to receive payments in BTC!
07:02 iPollo G1 miner dashboard & how to set it up
09:38 Where can you sell Grin coin? Use HotBit
10:29 Cook.finance are creating a decentralized asset management platform
11:01 How much do the iPollo miners cost?
12:57 Don't get scammed trying to buy ASIC miners! It's not a GPU miner!
14:44 Does VoskCoin recommend buying the iPollo G1 mini? Should you buy it?
15:55 iPollo G1 Mini VoskCoin review
VoskCoinTalk the VoskCoin forum - http://voskco.in/forum
VoskCoin Facebook - https://www.facebook.com/VoskCoin/
VoskCoin Reddit - https://www.reddit.com/r/voskcoin/
VoskCoin Discord Server Invite - http://voskco.in/discord
VoskCoin Twitter - https://twitter.com/VoskCoin
VoskCoin Instagram - https://www.instagram.com/voskcoin/
VoskCoin is for entertainment purposes only and is never intended to be financial investment advice. VoskCoin owns or has owned cryptocurrency and associated hardware. VoskCoin may receive donations or sponsorships in association with certain content creation. VoskCoin may receive compensation when affiliate/referral links are used. VoskCoin is home of the Doge Dad, VoskCoin is not your Dad, and thus VoskCoin is never liable for any decisions you make.
Tails Vosk reviewing the latest crypto mining rig in at the VoskCoin HQ!