So I posted this over on Discord but in case anyone's interested:
I got a new Innosilicon a10 last week and here are some of my observations from using it since then: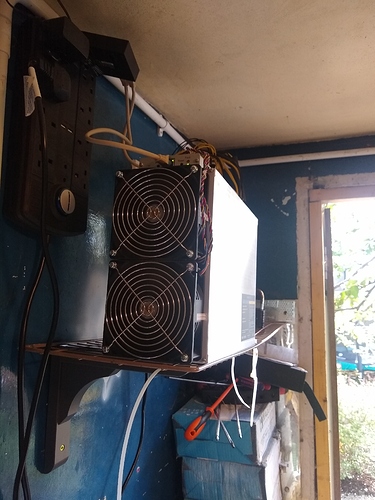 Here it is… in my not so tidy shed.
(1) I ordered one from Coin Mining Central and it took forever to arrive - I ordered and paid for it on February 27th and it arrived on April 21st. The whole Coronavirus thing seems to have slowed deliveries right down and the factory in China was closed for a while apparently. It came from Hong Kong, through the UK and eventually made its way to me in Ireland.
(2) It usues a lot more than the 750w it claims to use - I have had a meter on it for the last 4 days and the meter consistently reads between 900w and 920w.
(3) The overclocking/underclocking modes have minimal effect - I have been using it at the Efficiency setting for the past 4 days and it doesn't make much difference to either hash rate or power consumption. I am using it with the PSU that was supplied with it so I don't know if that could be the issue but I don't have another PSU to check it with.
(4) The hash rate is above the 500Mh they claim to offer - even with the efficiency mode set, my daily average hasn't dropped below 500Mh - if I leave the miner alone and just let it work without changing any settings, the rate is about 510-520Mh per day on efficiency mode.
(5) You can't connect to anonymous pools - for example Ethermine.org - you need to have an account mining pool for it to work - F2Pool works fine.
(6) It's not the noisiest ASIC miner I've ever heard but it's not the quietest either - I'm lucky to have an outdoor shed that I hooked up with an Ethernet connection. Certainly you wouldn't want it in your house.
(7) Do I think I'll ever make my money back on it? Probably not unless ETH values rise dramatically but hey… there you go.
I hope some of you find this useful. I had lots more photos to post but I'm a new user - I'm only allowed one per post!
Peace & love,
JC