Hey Phil did you ever get your order?
Hey Matthew just one question bud once you got your equipment nothing was faulty or missing and how long did it take for shipping ?
Lmaoo why is the fan so heavy lololol so just to be sure you got your equipment nothing was faulty and how long did shipping take bud I also live in Florida
It was weird. Once I commented bad review the shipping went through and they responded. Shipping was about 2 weeks and the only questionable thing with the order was that the protective wrapping was already taken off and no manual. I ordered new so I hope this isn't used. But so far so good with operation
can you upload a video of you mining
All,
I took a gamble with AsicMarketplace last week (Nov 7th) and bought one unit when they were around $8.2k after reading multiple reddit reviews and reviews on this website. Got worried last week Thursday when I only got an email confirmation mentioning that it was "processing" after sending them crypto for the purchase, so I sent them a kind email just asking for a status update. Got a DHL notification that same day that it was shipped, and I received it today (Nov 15th). They included a power supply but the power supply power cord wasn't included, so I ordered one on amazon and it should come tomorrow.
They're legit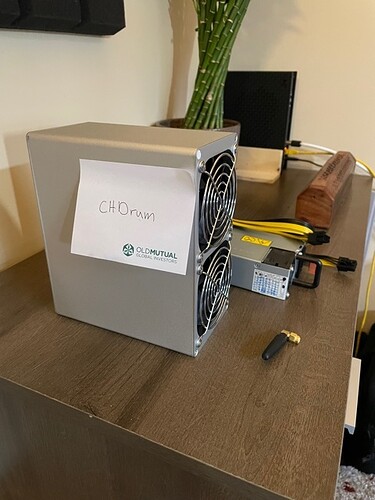 Hi everyone thinking of trying to buy a KD2 minor from Asicmarketplace. I take it from the comments on this thread most people have had a good experience with them?
Did this guy ever post pictures as per VOSK???
Does anyone know where i can order goldshell kd2 miner from? Asicmarket didnt have any

Anyone know anything about this site??
They got back to me! About the KD2 im going to try this out and see how the process goes before i buy the KD5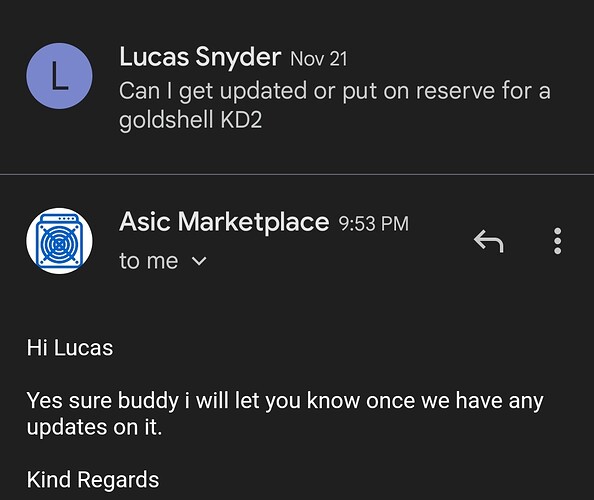 Just to add on this website. Tried it out with a goldshell mini doge. My overall opinion, meh.
Price: reseller so higher mark up, at the time it was about 60% mark up. Supposely no import fee. We will see if DHL contact me on this.
Payment: they accept wire or crypto.
Location: China
Transaction: longer than expected. I ordered from Goldshell after them, goldshell delivered before them.
Delivery: so far its shipped, hasn't arrived. So cant say on packaging. But the whole process took about a month.
For me, overall, not terrible, not great, just meh. At least it shorter than the bobcat miner 6 month wait. LOL.
My order from Asicmarketplace arrived today. Based on the sticker, you are from SA… may I ask if you using a pdu and if so, which one and where did you order? Thanks
let me know what to post… arrived today but will still need a couple of days for the proper setup.
Yes, got it yesterday. Set it up this morning and it works like a charm…
@Captain_Joe_Ramirez @cryptominernv south florida here, thinking about garage setup due to noise indoors… but did you have to put an AC unit in there? humidity? its swamp ass central during summer and not sure how to navigate this… thanks in advance!