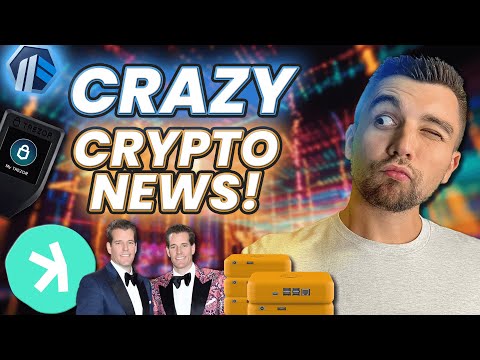 Keeping up with cryptocurrency is tough, so here's my round up of the latest crypto news, the most important token info, and just some crazy developments related to BAYC, Do Kwon, Arbitrum, and much more! Earn easy passive income mining with this miner - Evergreen
CryptoMinerBros sells ASIC mining rigs - https://voskco.in/cmb
Save some coin with code VOSKCOIN
Are you interested in a VoskCoin Chia miner? Are You Interested in a VoskCoin Edition Evergreen Miner Chia XCH Farmer?
Crypto is crazy and I mean so crazy that Do Kwon stuffed a cryptocurrency hardware wallet inside of him, wow. BAYC court rulings, Bitcoin pumps and dumps, Arbitrum ARB continues to be the hottest Ethereum layer 2, and there is apparently even a new asic mining rig earning over $500 per day that's just wild.
VoskCoin Mini Doge II Tails Edition - Goldshell x VoskCoin Mini Doge II Tails Edition Dogecoin Miner | by VoskCoin | Apr, 2023 | Medium
Subscribe - VoskCoin - YouTube
Buy your own trezor wallet here lol - https://voskco.in/trezor
Red Panda Mining Kaspa ASIC IceRiver KS2 review - https://twitter.com/RedPandaMining/status/1650312104426242049
Sign up for coinbase here - https://voskco.in/coinbase
Timestamps!
00:00 Crazy crypto news to save or make you money!
00:28 Trezor wallet inside a human?!
01:04 ATF ruling on pistol braces
01:55 Kaspa ASIC mining is INSANE
02:59 Arbitrum whale reveals a new airdrop?
04:58 Trust Wallet & 1Inch updates
06:02 SBF vs CZ - false rumors & lies!
07:21 BAYC NFT Copyright law victory?
10:46 Gemini & Coinbase expand overseas
14:58 Controversial new memecoin!
16:01 VoskCoin x Goldshell Mini Doge Tails Ed. v2!
16:42 Chia Mining profitability
18:40 VoskCoin mining farm focus
VoskCoin is for entertainment purposes only and is never intended to be financial investment advice. VoskCoin owns or has owned cryptocurrency and associated hardware. VoskCoin may receive donations or sponsorships in association with certain content creation. VoskCoin may receive compensation when affiliate/referral links are used. VoskCoin is home of the Doge Dad, VoskCoin is not your Dad, and thus VoskCoin is never liable for any decisions you make.
Latest Breaking Crazy Cryptocurrency News