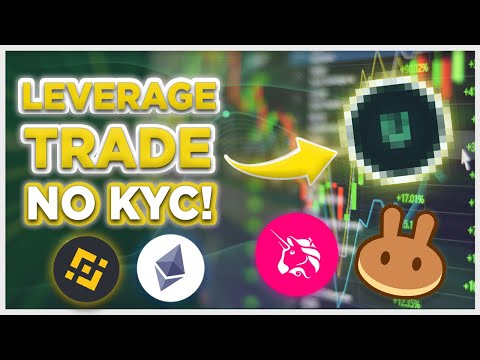 Margin trading allows you to trade on leverage and enables crypto investors to trade many cryptocurrencies with greater sums than spot trading but at greater risk! Unimex launched no KYC decentralized margin trading! Subscribe to VoskCoin - http://voskco.in/Sub
Margin trading crypto with leverage no KYC on Unimex - https://voskco.in/unimex
Buy the BEST Helium hotspot miner! https://voskco.in/HNTb
Decentralized exchange margin trading cryptocurrencies with leverage is an incredible value proposition to everyone especially US crypto investors that are unable to use many margin trading exchanges for cryptocurrency. Unimex fills a gap in the current DEX DeFi decentralized exchange decentralized finance space allowing crypto investors to trade cryptocurrencies with leverage with no KYC know your customer requirements and country restrictions along with support for the Ethereum blockchain and the Binance Smart Chain BSC!
Learn how to use Metamask the best ETH wallet - MetaMask Guide | BEST Ethereum Wallet for DApps and Smart Contracts - YouTube
Giving away thousands of dollars in crypto coins - VoskCoin giveaways for April and May 2021

Links!


Degen DGN trade allows up 1000x margin trading - https://voskco.in/degent
Farm Space allows to DeFi farming - https://voskco.in/farmspace
Over a million people are making money w/ Metamask - Over a Million people are trying to MAKE MONEY on Ethereum using MetaMask - YouTube
I invested over $7,300 into UNISWAP?? 2021 UNI review - Uniswap 2021 Tutorial, Review, and UNI Price Prediction! 📈 - YouTube
How to set up Metamask for Binance Smart Chain BSC - Metamask Binance Smart Chain Setup Guide & BNB to BSC easy swap! - YouTube

Timestamps


00:00 Decentralized Leverage trading
02:34 Get the basics right
02:27 The UniMex Network is a whole ecosystem
03:30 UMX Tokenomics
04:02 UniMex trading platform overview
05:07 Using UniMex to margin trade
06:40 Getting funds on the UniMex platform
07:43 How to go LONG
09:00 A detailed breakdown of your positions
09:39 What is DEGEN protocol?
10:16 UniMex is a unique DeFI project
VoskCoinTalk the VoskCoin forum - http://voskco.in/forum
VoskCoin Facebook - VoskCoin
VoskCoin Reddit - https://www.reddit.com/r/voskcoin/
VoskCoin Discord Server Invite - http://voskco.in/discord
VoskCoin Twitter - https://twitter.com/VoskCoin
VoskCoin Instagram - https://www.instagram.com/voskcoin/
VoskCoin is for entertainment purposes only and is never intended to be financial investment advice. VoskCoin owns or has owned cryptocurrency and associated hardware. VoskCoin may receive donations or sponsorships in association with certain content creation. VoskCoin may receive compensation when affiliate/referral links are used. VoskCoin is home of the Doge Dad, VoskCoin is not your Dad, and thus VoskCoin is never liable for any decisions you make.
Unimex UMX token review