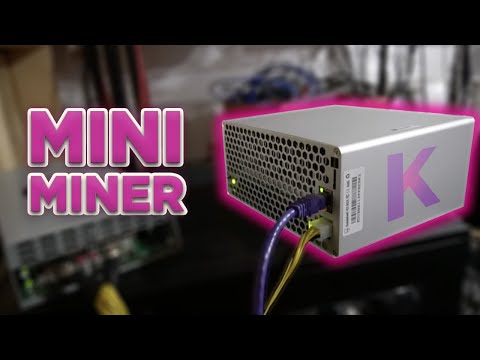 Goldshell just released the KD-BOX a mini crypto mining rig that is a profitable ASIC miner that is VERY QUIET and does not use much electricity so it's cheap to run and produces low heat! Let's review this Kadena KDA mining rig! Subscribe to VoskCoin - http://voskco.in/Sub
Goldshell KD-BOX IN STOCK RIGHT NOW! https://voskco.in/goldshell
VoskCoin eBay garage summer sale! voskbay on eBay
Review the BEST Helium miners to buy - What is the BEST Helium Hotspot Miner to Buy? | by VoskCoin | VoskCoin | Apr, 2021 | Medium
Goldshell has been creating some of the best and most profitable mining rigs to buy lately, they have no focusing on big power ASIC mining rigs for profitable mining farms but also have created an entire line of small mining rigs that are the best miners to buy for residential at home crypto miners and enable you to decentralize these crypto networks AND earn passive income doing it! Let's review the Goldshell KDBOX Kadena KDA ASIC miner as Goldshell makes the most profitable mining rigs to buy for ASIC mining on the Kadena network!
Watch the Goldshell x VoskCoin mini mining rig review! https://youtu.be/FjiylblU00Y
Links!
Goldshell tutorial guide on setting up KD-BOX miner - BOX Tutorial – goldshell miner
Buy a Goldshell mining rig here! https://voskco.in/goldshell
Check out the eBay mining rig summer sale - voskbay on eBay
Learn more about the creation of the VoskCoin LB1 on VoskCoinTalk - Goldshell LB1 x VoskCoin Edition -- 200 UNITS ONLY!

Timestamps


00:00 Is this the BEST miner for mining at home?
03:51 Goldshell KD-BOX Overview & Specs
06:10 KD-BOX Power Supply
07:15 Mining profitability in 2021
07:57 Kadena KDA mining pool
09:49 KD-BOX mining pool tutorial
11:04 Kadena KDA Review
12:07 How to use the KD-BOX
14:03 Goldshell adds algorithms to their miners
14:51 How to get a KD-BOX
15:24 VoskCoin Summer Sale on eBay
16:24 Is mining dead? Mining still worth it?
VoskCoinTalk the VoskCoin forum - http://voskco.in/forum
VoskCoin Facebook - VoskCoin
VoskCoin Reddit - https://www.reddit.com/r/voskcoin/
VoskCoin Discord Server Invite - http://voskco.in/discord
VoskCoin Twitter - https://twitter.com/VoskCoin
VoskCoin Instagram - https://www.instagram.com/voskcoin/
VoskCoin is for entertainment purposes only and is never intended to be financial investment advice. VoskCoin owns or has owned cryptocurrency and associated hardware. VoskCoin may receive donations or sponsorships in association with certain content creation. VoskCoin may receive compensation when affiliate/referral links are used. VoskCoin is home of the Doge Dad, VoskCoin is not your Dad, and thus VoskCoin is never liable for any decisions you make.
Kadena KDA ASIC mining rig Goldshell kd-box review