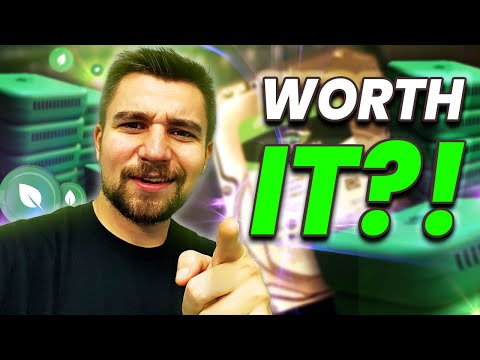 Mining Cryptocurrencies with Hard Drives in 2023 - Is It Worth It? Earning passive income is the key to financial freedom but is it actually a good investment to buy a bunch of hard drives for HDD mining rigs? Grab your own HDD miners here - Evergreen
Buy a Chia Mining Rig from Evergreen here - Evergreen
Learn more about Evergreen Chia Miners - The Best Cryptocurrency Miner for 2023 | by Miss Vosk (Alexa) | VoskCoin | Feb, 2023 | Medium
Use code VOSKCOIN for the most savings possible
PLEASE tell me if you want a VoskCoin edition chia mining rig! Are You Interested in a VoskCoin Edition Evergreen Miner Chia XCH Farmer?
Crypto CHIA giveaway thread on VoskCoinTalk! Are You Interested in a VoskCoin Edition Evergreen Miner Chia XCH Farmer?
FULL Evergreen Miner Video Tutorial - How To Set Up Evergreen Miner the BEST Chia XCH Farmer! - YouTube
There's tens of millions of dollars mined in cryptocurrency everyday, crypto mining farms mint literally millions of new dollars of coins per day! A lot of mining profitability revolves around ASIC mining, but mining with hard drives is becoming more popular and profitable thanks to Chia. You can farm Chia XCH with HDD mining rigs, and thanks to the Evergreen miner there's now an easy to use plug and play hard drive mining rig solution so let's review how much these cost, how to buy one, the Chia XCH halving, the upside for CHIA crypto coin, the profitability of actually mining Chia XCH as well as new developments like compressed plots for chia farmers and this whole gigahorse development along with how evergreen miners plan to scale with compressed chia plotting.
Original Evergreen farmer review $60 A Month With HARDDRIVES! - I'm Making $60 A Month With HARDDRIVES! - YouTube
Join the VoskCoin Discord for more HDD mining content! VoskCoin
Subscribe for more mining content! VoskCoin - YouTube
Here's How I Am Earning $120+ PER MONTH Mining Chia With Hard Drives! Here's How I Am Earning $120+ PER MONTH Mining Chia With Hard Drives! - YouTube
Timestamps!
00:00 Is mining Chia worth it?
01:02 Evergreen miner a simple way to mine with hard-drives
01:37 A limited edition VoskCoin hard drive miner?
02:44 Compressed plots to farm Chia
05:11 DIY Chia minning vs Plug & play
06:02 What will the price of Chia be in the future?
08:08 It's good to be a Chia farmer right now
10:30 Why mine instead of buying?
11:09 Harddrive mining is energy efficient
12:49 The VoskCoin Evergreen edition!
VoskCoin is for entertainment purposes only and is never intended to be financial investment advice. VoskCoin owns or has owned cryptocurrency and associated hardware. VoskCoin may receive donations or sponsorships in association with certain content creation. VoskCoin may receive compensation when affiliate/referral links are used. VoskCoin is home of the Doge Dad, VoskCoin is not your Dad, and thus VoskCoin is never liable for any decisions you make.
Mining Cryptocurrencies with Hard Drives in 2023 - Is It Worth It?