hello any one use nicehash os?
some do, some dont. you might get better response if you tell us what you need first… if not then no. no one uses it
I tried it doesn't like me
like everyone know windows 10 same problem with update today my rig shut down 4 times after 4 shut down no more start windows error it was same couple days ago keep restarting but still runing now complete not runing. im mining on nicehash. i need help how to set up nhos to undervoltage gpu and change fan speed and plus is not show gpu temp and fan speed. im never use before any mining os from usb so dont have any idea how to set up im check nhos manual it just explain how to connect to server and change tdp core and memory, no other explain how to set like fan speed or voltage -105
my friend also send my ethos but him also dont know how to set up for nicehash and how to drop voltage to -105, just tell how to add 1180 and 2180 setings and fan speed
second mining rig same crash windows not respond



bro try HiveOS i have a referral link in my profile you will like it I know it!
Hi hive os is #1 when it comes to stability. I use nhos it works nice, bit tricky to configure overcklocks but after that 100% for a month. On windows my rig crashes every 3 to 6 hours with NiceHash no idea why. Thats why i tryed nhos works realy good. What I dont like about it is that you get practical no web gui to do any configuration.
dont like hiveos low profit already tested nh give more hight profit for my rig and is reason why i wanna use nhos to make sure runing stable no more restarting stupid windows
did you try to use shell in a box?
not nicehash cresh but windows on my same or claymore shutdown or pc keep restarting. im try to reinstall fresh windows it working around 4h till get back updates from microsoft and again same keep stoping. i runing now nhos on my rig with 1gpu try figure out how to set up. first try run hole rig and is very high power consumption 1406watt from wall. on windows i have 905-920watt from wall. so for now i run just only one gpu to figure out how to undervoltage gpu. btw nhos mining very stable
i talk to nh support i dont get any correct answer how to set up as from talk i understand support dont know how to use nhos. so i need to figure out be my shelf.first need to found how change fan speed as in my room hot and on nhos gpu go up till 70c as fan speed are auto mode, second with 1 gpu from wall 278watt, on windows from wall 180. found one more problem not showing in nicehash gpu temp,load and fan speed,so it shomething with motherboard bios
I am using HiveOS to mine thru Nicehash and I am getting over payed every day…I am super confident that if you give it another chance you will like it, I have literally tried everything else and this was the only thing I could completely figure out and I love it
howm much you earn per day? on nh i get 4.01usd day
I have it in my rig build thread ill post it again
keep in mind that I also have been having problems with my internet the last few days also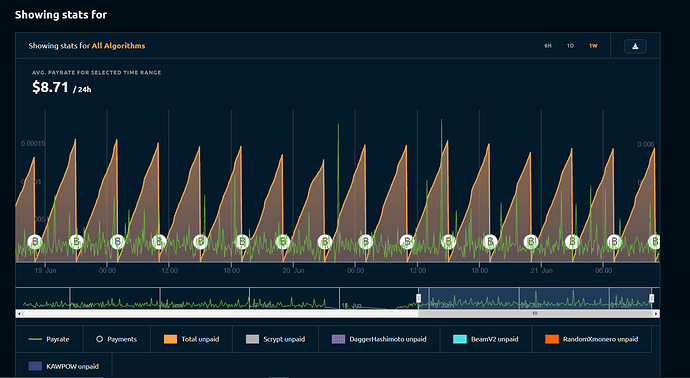 I also was having trouble getting the rigs stable while I was trying to tune my new rig if you look at my first rig build thread you can see how well I was doing on Nicehash before I got the new miner
I am making way more than this says I should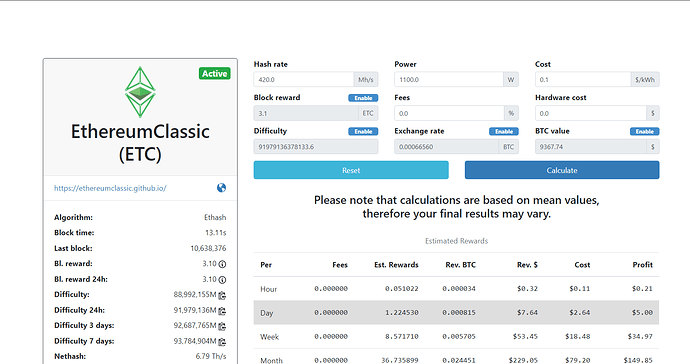 are you trying to mine with your cpu as well? if you are, then you have to go to your cpu benchmark and enter your threads. Example, my cpu has 12 threads so I typed --Threads=10 and this solved all my problems.
MM, I know Nicehash has been going bonkers. ive had my rig jump to $30/24hr at times. I do notice tho that at times when this happens my 4hr payrate actually winds up lower by a few pennies. very weird although I do like having 3@RadeonVII making $6+ a day.