Direct Paying websites are emerging more and more and i will try sharing them with you as we go , also i would like to thank the people who actually sign up using my links also i provide non affiliate link just in case, so lets begin .
Pipe Flare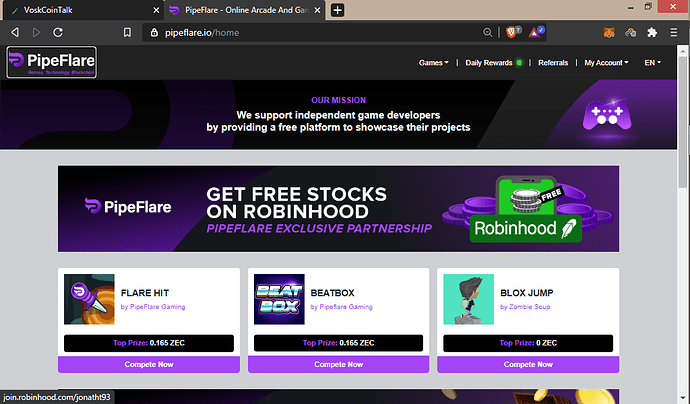 Pipe flare aims to be a site for game developers can showcase their games and get crypto and through their games both players and developers can get paid .
it looks like the evolved form of gobal-hive and getzen faucets that are a pretty solid paying sites except this one is more focused on a variety of tokens and games to help you earn more crypto. To earn all you have to do is solve the captcha that's it plain and simple.
Bonus
Their are the usual referrals the Daily and the Brave browser bonuses that we are used to on previous sites but this one adds more games and has its own currency called FLR or flare token currently you can win competitions and get money for your ranking but they plan on listing the FLR coin on n exchange , take that with a grain of salt
Available Coins
Their are a selection of coins to chose from and they all are directly paid to your account .
Dash
Doge
FLR
ZEC
PIVX(got kicked out recently)
Compared to other Faucets we have covered before this one is by far the most advanced
Referrals
a bit complicated but yes when 5 friends join you get a spin that's up to 5$ which i highly doubt , then comes the weird tier that makes no sense ill attach a picture if it makes any sense . Also payouts are only in ZEC.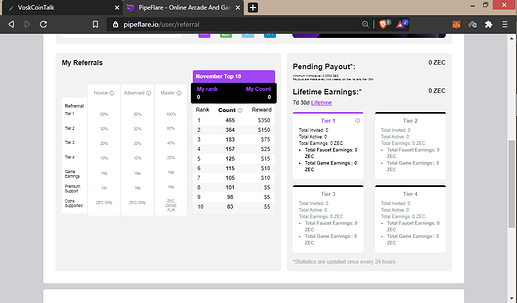 Games
The core of this site is games , and yes their are 3 games called Flare hit , Beat-box and Blox-jump . Blox-Jump is also available in GetZen faucet giving us more evidence of the developers are linked to those sites
NOTE that after sometime your FLR tokens will be not be counted after the weekly competition ends since you earned it last week , yeah i got confused for some time
Conclusion
Its different better built and even has its own custom captcha clearly the devs have put a lot of time and effort to the site and i found this site superior than the other sites due to its larger library of coins available to claim .
Proof of withdrawals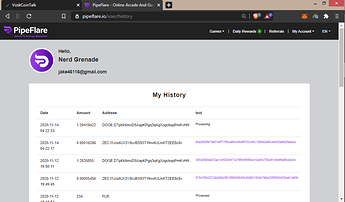 So if you wanna try this site please use the links below
Referral :- https://pipeflare.io/r/2rq3
Non-Referral :- https://pipeflare.io/
Happy earning