Over the last couple months, we dealt with www.voskcoins.com, a fake scam website impersonating VoskCoin and Drew Vosk. We were successful in bringing down that fraudulent website thanks to @greer. Unfortunately they have relaunched the same scamming website posing as VoskCoin and offering a cryptocurrency cloud mining service yet again, at https://voskcoins.co/. We have begun the reporting process, thanks again to @greer, and we are hopeful we will have this deceitful website removed soon as well.
This is a public safety announcement, DO NOT send them anything, whether it's your money or information. If you ever have a question about VoskCoin, what we are doing, and the services we offer please reach out directly right here on the official VoskCoinTalk VoskCoin forum.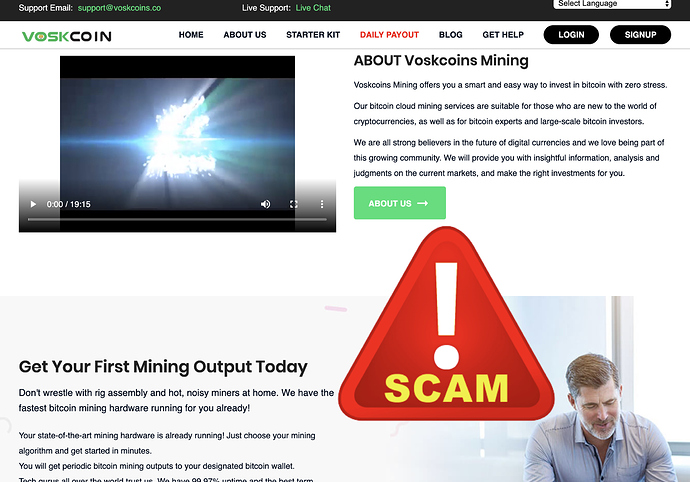 Thanks to Greerso's research one of the associated Bitcoin BTC addresses associated with this fake scam cloud mining voskcoins operation was found
1KqQJzcLKzhJaRx4JxgBesD9yLrmX86j8K
To be very clear, this Bitcoin BTC address is NOT associated with VoskCoin in anyway. If you send your Bitcoins to that address, you will be scammed and lose them.