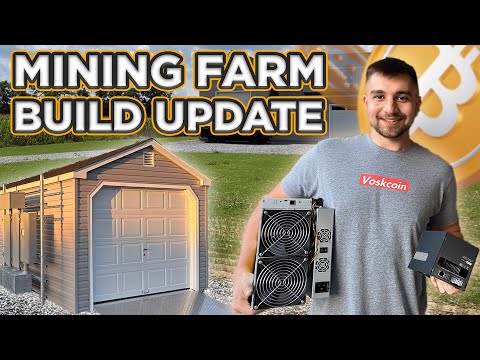 Should I have just bought Bitcoins instead of building the VoskCoin Bitcoin Crypto Mining farm? Probably, but here is the latest update on how my cryptocurrency mining farm build is going! Subscribe! https://voskco.in/Sub
This is the most profitable cheap miner to buy right now! https://voskco.in/egm
Watch the full journey building out my mining farm here (playlist) - https://www.youtube.com/playlist?list=PL4dnwHTjcf-9qfOEekcjPwqJqgkO455f-
Building out a solar powered bitcoin mining farm continues to be incredibly difficult, time consuming and a very expensive endeavor but here is the latest news on the VoskCoin mining farm and uh maybe some of you in the youtube comments were right! I'd have less gray hair if I had just bought Bitcoin but sitting on BTC for years would it be relaxing not to me probably boring! lol anyway, here's the VoskCoin Mining Farm Build Update.
Have some input on the Mining Shed and Solar Farm? Help Us Build the Mining Shed 2.0!
My most recent mining farm update - I Was NOT Expecting This... Crypto Mining Farm Build Update 🪨 - YouTube
My plans for electricity within my crypto mining shed - Designing Electricity for a Bitcoin Crypto Mining Farm - YouTube

Timestamps


00:00 Mining farm build update
02:14 VoskCoin HQ build update
05:58 Drew Vosk electricity pulled for mining farm
10:39 VoskCoins plan moving forward
Follow us on our official social media accounts - VoskCoin | Twitter, Instagram, Facebook | Linktree
VoskCoin is for entertainment purposes only and is never intended to be financial investment advice. VoskCoin owns or has owned cryptocurrency and associated hardware. VoskCoin may receive donations or sponsorships in association with certain content creation. VoskCoin may receive compensation when affiliate/referral links are used. VoskCoin is home of the Doge Dad, VoskCoin is not your Dad, and thus VoskCoin is never liable for any decisions you make.
VoskCoin Mining Farm Build Update