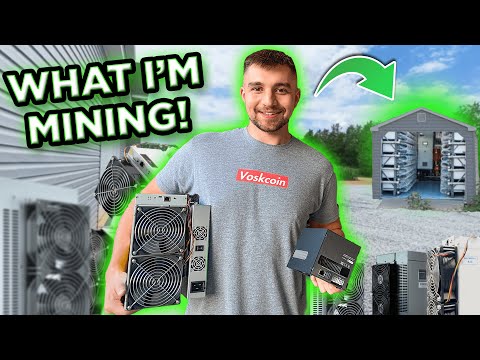 Selecting which cryptocurrencies you mine can make or break the performance of your cryptocurrency mining farm. Today I'll break down how I plan on allocating my mining farm hashrate to maximize passive income and achieve the best ROI! Subscribe! https://voskco.in/Sub
Get up to $250 for free when you sign up with BlockFi - BlockFi Partner Promo | 7.8.22 T
Watch the full journey building out my mining farm here (playlist) - https://www.youtube.com/playlist?list=PL4dnwHTjcf-9qfOEekcjPwqJqgkO455f-
One of the most common questions I have received recently has been regarding which coins I plan on mining on my DIY solar-powered cryptocurrency mining farm. We plan to mostly mine Bitcoin. If Ethereum was not moving to Proof of Stake, I would be focused on mining ETH, but with the Merge just weeks away, it's not a viable option. Let's review what other altcoins I intend on mining at the mining farm! I'll review how I'm choosing the coins I mine and how much power I want to allocate to each of those coins. Will this be a huge win for me, or will it blow up in my face?
Do you think Nervos Network CKB is worth mining? What about Kadena KDA mining or even mining Ethereum and then Ethereum Classic once ETH 2.0 and only ETC can still be mined?
Have some input on the Mining Shed and Solar Farm? Help Us Build the Mining Shed 2.0!
My most recent mining farm update - I Was NOT Expecting This... Crypto Mining Farm Build Update 🪨 - YouTube
My plans for electricity within my crypto mining shed - Designing Electricity for a Bitcoin Crypto Mining Farm - YouTube

Timestamps


00:00 My crypto mining farm build-out plan
01:05 What will I mine on my farm?
02:22 Bitcoin Halving
03:04 BTC vs ETH mining?
07:23 Mining Altcoins
10:09 The Master Plan with my crypto mining farm
13:34 The future of mineable cryptocurrencies?
Follow us on our official social media accounts - VoskCoin | Twitter, Instagram, YouTube, Facebook | Linktree
VoskCoin is for entertainment purposes only and is never intended to be financial investment advice. VoskCoin owns or has owned cryptocurrency and associated hardware. VoskCoin may receive donations or sponsorships in association with certain content creation. VoskCoin may receive compensation when affiliate/referral links are used. VoskCoin is home of the Doge Dad, VoskCoin is not your Dad, and thus VoskCoin is never liable for any decisions you make.
What Coins I'll Mine on My Solar Powered Mining Farm!