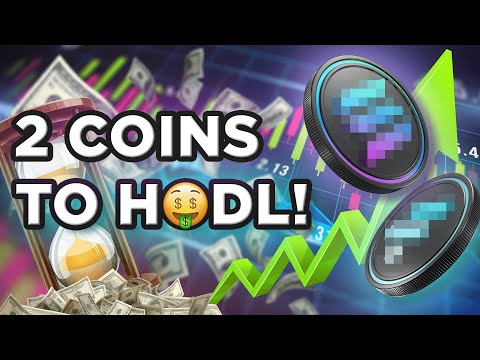 Crypto has made a lot of people a lot of money - but it all relies on taking profits at the right time! Are you a diamond-handed degen?! Find out why I'm HODL'ing 2 of the top cryptocurrencies! Subscribe to VoskCoin for more! http://voskco.in/Sub
Would you be interested in an Official VoskCoin exchange?! Vote here! - Would you be interested in an Official VoskCoin Exchange?!
Get $10 for FREE and 5% off your trading fees - https://voskco.in/ftx
Buy and sell NFTs with FTX and their NFT market!
This is my favorite mining rig that you can buy in 2022 - https://voskco.in/b300
Buying and selling crypto can make you a lot of money, but it's all about timing the market! The FTX exchange token FTT and Solana SOL are two of the top cryptocurrencies that I believe are still undervalued! These 2 coins will very likely make a lot of people a lot of money - but it's not financial advice! FTX is growing at an extremely fast pace, and Solana NFTs are gaining major popularity! What else is in store for the FTX exchange? Should you buy these 2 coins?
Why I think 2022 will be HUGE for FTX - Solana, FTX, and FTT Will Be Huge in 2022! - YouTube
Check our full guide on using Optimism - Use Ethereum FOR FREE NO GAS FEES - Uniswap Optimism Layer 2 Guide - YouTube
Learn how to buy, sell and mint NFTs on FTX - How To Buy, Sell, and MINT NFTs on FTX to Make Money! - YouTube

Timestamps


00:00 Why these 2 coins are undervalued!
00:32 How to get started with Solana SOL
02:13 Solana NFTs and FTX news
03:52 DEX Aggregators on different chains
05:21 Mercedes NFTs with Solana?!
06:21 FTX building new derivatives market & charity
09:33 SOL and FTT price predictions
11:00 My opinion on SOL and FTT
VoskCoinTalk the VoskCoin forum - VoskCoinTalk - Best cryptocurrency & blockchain forum
VoskCoin Facebook - Redirecting...
VoskCoin Reddit - https://www.reddit.com/r/voskcoin/
VoskCoin Discord Server Invite - VoskCoin
VoskCoin Twitter - https://twitter.com/VoskCoin
VoskCoin Instagram - Login • Instagram
VoskCoin is for entertainment purposes only and is never intended to be financial investment advice. VoskCoin owns or has owned cryptocurrency and associated hardware. VoskCoin may receive donations or sponsorships in association with certain content creation. VoskCoin may receive compensation when affiliate/referral links are used. VoskCoin is home of the Doge Dad, VoskCoin is not your Dad, and thus VoskCoin is never liable for any decisions you make.
Why I'm HODL'ing These TWO Cryptocurrencies Right Now!