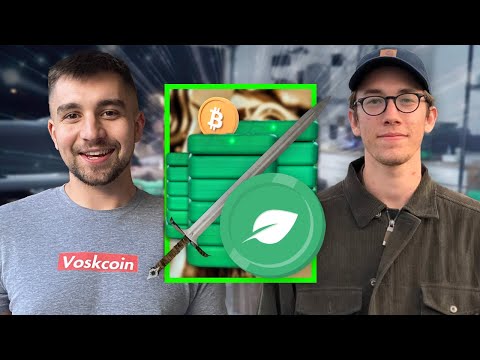 Would you be more likely to mine Bitcoin if it was mined with harddrives? This would mean a Bitcoin mining rig would use around 100 watts, like running your laptop, instead of the current big power-hungry BTC ASIC miners. Drew Vosk sits down with Dylan Rose who created easy to use HDD miners, called Evergreen Miners. Buy one here - Evergreen Miner v2.5 VoskCoin Tails Edition
Learn more about the VoskCoin Tails Edition HDD miner! Introducing the VoskCoin Tails Edition Evergreen Miner! | by Brynn | VoskCoin | Sep, 2023 | Medium
Order yours VoskCoin Tails Edition miner here - Evergreen Miner v2.5 VoskCoin Tails Edition
Use code VOSKCOIN to save some COIN even on this Evergreen miner!
Here's the VoskCoinTalk thread on a limited edition Chia miner release! Are You Interested in a VoskCoin Edition Evergreen Miner Chia XCH Farmer?
FULL Evergreen Miner Video Tutorial - https://youtu.be/YMjn_lxRWx4
Join the VoskCoin Discord for more HDD mining content! VoskCoin
Timestamps!
00:00 Dylan rose cofounder of the chia evergreen farmer
01:50 Why is the Chia a good blockchain
04:50 Making mining accessible
07:30 Taking power back
10:13 Everyone can have a low power miner in their house
13:15 Crypto is a sword for you sovereignty
16:45 Are there ASICS for chia
20:50 Is Chia better than filecoin?
22:10 Using the evergreen app
23:30 The OG Voskcoin Tri Miner
25:08 What is the future of chia and evergreen
31:00 Decentralised vs Decentralised
34:40 Why Farm chia?
37:22 interacting with blockchain
VoskCoin is for entertainment purposes only and is never intended to be financial investment advice. VoskCoin owns or has owned cryptocurrency and associated hardware. VoskCoin may receive donations or sponsorships in association with certain content creation. VoskCoin may receive compensation when affiliate/referral links are used. VoskCoin is home of the Doge Dad, VoskCoin is not your Dad, and thus VoskCoin is never liable for any decisions you make.
Would Bitcoin Mining be BETTER if it was Mined with Hard Drives like Chia XCH?