This new Decentralized Finance DeFi yield farming platform Yield Global is promising 408% daily – is that even possible?! APY Center is actually REFUNDING some people their Ethereum staked for CAPY! Sub to VoskCoin - http://voskco.in/Sub
Check out the Yield Global Yield Farm here - http://voskco.in/yeldg
APY Center CAPY refund information - DeFi Degens Dungeon | Buy - Sell - Trade - Stake - Yield - Farm all the DeFi Tokens here! 📊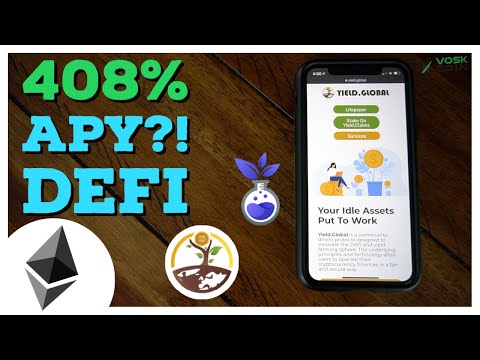 Decentralized Finance, the DeFi side of crypto shows no signs in slowing down. Numerous projects are eager to become the next hot DeFi coin, or yield farming platform, and Yield Global aims to be the next popular DeFi destination with their YIELD staking. Astonishingly, trustworthy members of our community are reporting that they have actually received a refund from APY Center, receiving ALL of the Ethereum they staked for CAPY coin which completely tanked in price on Uniswap – unfortunately, we did not turn $350 into $100,000 that day, but it was a very educational experience in DeFi crypto and investing. Let's review Yield Global, update on Apy Center APYC CAPY, and touch on how to setup Metamask behind a VPN using Opera as well as Zapper.fi and Debank DeFi tools!
Links!
Join the Defi Degens thread on VoskCoinTalk! DeFi Degens Dungeon | Buy - Sell - Trade - Stake - Yield - Farm all the DeFi Tokens here! 📊
Yield Global yield farming at your own risk - http://voskco.in/yeldg
Download and install Metamask here - http://voskco.in/metamask
Download Opera the browser with a free built-in VPN - http://voskco.in/opera
Zapper.fi makes DeFi crypto easier - http://voskco.in/zapper
Debank also makes DeFi crypto easier - http://voskco.in/debank
VoskCoin is for entertainment purposes only and is never intended to be financial investment advice. VoskCoin owns or has owned cryptocurrency and associated hardware. VoskCoin may receive donations or sponsorships in association with certain content creation. VoskCoin may receive compensation when affiliate/referral links are used. VoskCoin is home of the Doge Dad, VoskCoin is not your Dad, and thus VoskCoin is never liable for any decisions you make.