HI their
Faucets have always been a way to earn crypto for doing something in exchange such as viewing Ads, Videos and what not and always their is a barrier of minimum withdrawal that prevents you from claiming your assets .
The faucet that i show you here has absolutely no minimum withdrawal they pay out right away directly yo your faucet i have done a little bit of digging on the ZEC block explorer and found that they payout to hundreds of users by using input / output method that makes them pay small transaction fees on ZEC network .
Global Hive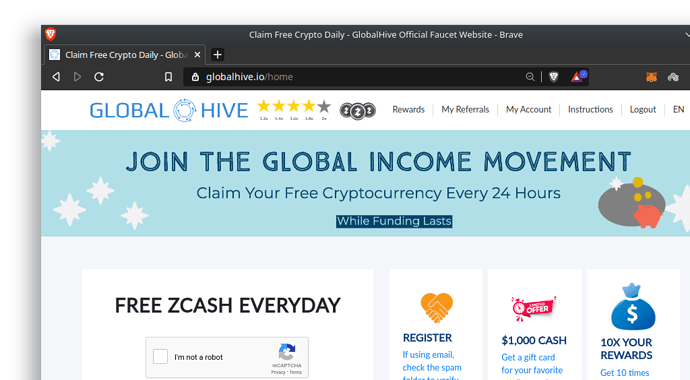 This is their homepage simple and cool the only coins they give is currently ZEC they used to give out tezos before changing to ZEC .To begin register for an account and claim your assets by completing a captcha questions and you get paid its that easy.
But hold up theirs are ways to increase your earning first go to Rewards you'll see it on the navigation panel on the top press that then it should look like the picture below .
Here you simply connect your Google,Facebook ,Twitter and Linkden account their you will be able to earn more. Also if you use the Brave Browser you get 10% more just for using the browser which is a win win situation.
Daily Rewards
if you claim daily once every 24 hours for consecutive days the stars in the navigation bar will start glowing up and on the 6th day you are eligible to go in to a lottery where you can claim up to 0.1 ZEC yeah lets be realistic its 0.0004 at best (rewards change so i cant be 100% about it).Best part is their is no loosing so at least you get the minimum ZEC listed at least that's some thing

Referrals
well i dont know anyone interested in this kind of thing so i cant say much about it but they do have Teirs and referrals are for a lifetime .
Payment Proofs
Here are a link to the transactions https://explorer.zcha.in/transactions/bf999cebfc6a7092fa82782ded3f1e1a2b27c6db52024fd20e9ac6ff7bab3422
Conclusion
For a once every 24hrs faucet and having zero ads i love this website and i use it every day i hope you do to.
Here is my referral link if you want to give it a shot https://globalhive.io/r/14430 . if you find anything weird or better faucets please let me know and enjoy earning