VOSKCOIN Code is not working?
Info from the product page on shipping timeline
Shipping Start From: September 27th
Please notice, October 1st to October 7th is China's National Day. Shipment will be hold on.
Well congrats to those who got 1 or more than 1.
Just ordered my first two ASIC miners! I've been mining off my RX 580 but this is a big next step into this awesome mining world. Thanks @VoskCoin for all the information and support you provide the community

Sadly They are sold out and I couldn't get one. Also in the email I saw they accepted doge coin. Anyone who managed to actually get to the payment options is this the case as well?
They said in an email that more stock will be released this weekend, so watch for it.
@VoskCoin says another batch is dropping when his review goes live in under an hour.
"Half of Batch 4 has gone live now ~1030 am EST with the Goldshell lunar restock, and the remaining 500 units will be added to the stock when our new Goldshell Mini-Doge miner review goes live today in ~1 hour! "
Woo Hoo! After trying for an hour finally got one. Thanks VoskCoin and everyone here for the helpful advice!
I ordered one and paid via dogecoin and my order got cancelled before my dogecoin transaction went through. Anyone with the same issue or knows what to do now?
Almost all Batch 5 VoskCoin Mini Doge miners Tails Edition are sold out – some orders will fail and some units will come back in stock!
Within ~30 minutes 500 miners sold out this morning, and then within ~30 minutes of our video going live the other 500 miners sold out – insane, thanks for the incredible support everyone! I hope you all love your mini asic miners!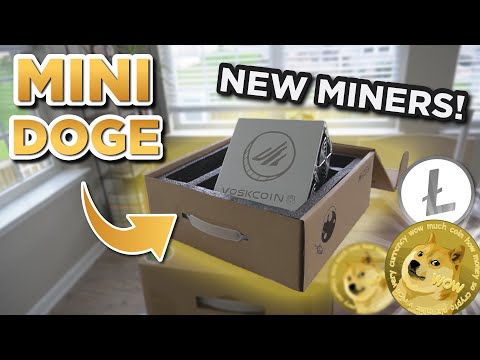 Lets hope my order actually went through thanks for the update @VoskCoin
Well that went way too quick, there isn't a waiting list or anything so i can ensure to get one or two? By the time I was off work and watched video it was done.
No waiting list, gotta be able to buy or have someone do it for you, they went within 30 mins on each batch unfortunately
From the Netherlands: big thanks to VoskCoin for the updates. (Calculating 11Am Est to Amsterdam) I've got my second Mini Doge Miner in progress. @VoskCoin,Will there be more batches this year?
Bummer, i was working from home but very busy. I didn't even see the video until 7pm so I got excited for nothing. I can handle ordering it if I was ready or didn't find out so late. Or if there was just more, limit, waiting list, etc. Maybe eventually but by then I'll have other ones at least but really needed 2 or 3 mini doge miners to get things going better!
How long can you leave you're mined crypto in the DxPool account ?
annnnd they're gone, less than an hour again
I tried after i got email at 11am but couldnt get one, the site was slow and coinbase wanted to play email tag which was probably my undoing. Missed yet again…