Is any one talking about decentralised VPN servers? I've only heard of them and would like to know more details?
Hey from Canada, eh (lol), I learned about Vosk a few weeks ago after starting to invest in crypto for the first time. I've been reading and watching so many videos and this channel is the most interesting and informative I have found. Its very exciting to join a good community.
Hello from Canada!
Thanks for all of the great Youtube content on mining and on everything else you take the time to explain and demonstrate!
Hello!
Vosk, my man. Love the channel and the information you provide. I was curious about the NFT video where you minted one from PlanetWaifu …. I was wondering if I could somehow get an image/file of that. I want to try and paint it with acrylic/spray paint and send it back to you!! Idk if Mrs Vosk would be okay with it (although I think she would lol) hanging up in there ole homestead. Or maybe in your crypto shed/barn. Anyway, let me know! And keep up the great content

Hi all!
Newbie here, from Essex, Connecticut, USA. I've had multiple careers from photographer, gym owner, to now an EMT/firefighter. Looking to dive quickly into mining, be able to work from home more, and stress less. Looking for first steps and suggestions on creative ways people financed their first miners.
Take care!
Wendell
Hey new here and trying to learn & get started. Need to get up and running ASAP. Got hurt and haven't worked since July and to the point where I have to either invest and start getting returns or use all startup for living expenses and find a new… Any help is greatly appreciated. What would it take to start bringing in like $100-$200 daily?
I just bought 30 acres and will be renovating a 35x70 workshop on the property.
I want to make it a mining shop with solar power eventually.
I have never mined before and would like some advice on how to start. I have been watching the videos and researching sites but still was hoping for some hand holding. I live in Yadkinville NC, if there are some experienced miners that want to visit and share their experiences.
Derek here. New to mining, been trading for a year and a half. Got a mini DOGE and working on my GPU Miner. Got a 1660S mining solo currently. I am about to order my Bobcat Miner 300. Looking forward to that gem. Have learned a lot here and hope to keep Learning.
Phanotm - 4yUe7zWcUCWMbp5zNL1Akfpd1ZfmvMt2hTqKvxDZsC48
Nami - addr1qy7nhzu8ktz6h0qjh6zvqjm8kncgg77scds2nvq68typqh9muz4a33euxzxw8km3mj9gng4njyrkwpm3zdcyan9mhsusg5r6qf
Meta - 0xCF928a6C46b8D2db74076aB61211D400779ce382
LTC - ltc1qztfexls5zqgp5852v30cv0eyyzwe8s2w3npp42
DOGE - DLqfXcyAH8TPM7R2zRbbkQJ9CR2zPWwBM2
ETH - 0x28c5AC169fdf96310f8428DB5D9988447AeDdAcB
BTC - bc1qxcwl84vg42h2xtruanak860d4pu8qk9qrd69h7
Everyone Loves Gifts!
Hello from Panama!
Really new member in mining, after reasearch got Voskocoin youtube on my channel , now what do you recommend me to start with I want to make a investment in criptomining in Texas. If someone can help us were to start,
Looking forward to join this amazing community, gain more and more knowledge and get set to start bulk mining! if any help from someone could be awesome.
hope to hear from you guys!
I am an old dude learning some new tricks… Retired from the Marine Corps started teaching but looking for a way to work from home and crypto might be it.
Is anyone still mining on Tensority for Bytom with a B7? If so what is your daily production please. Websites like Asicminer and cryptominer are showing $30 per day but I am finding information directly from supplier showing $2 per day?
Just joined. Like this a lot.
Can anyone verify current income of Bitmain B-7? I am getting conflicting data and was about to buy one until I realized the daily profit seems to be incorrect on listed websites like AsicMiner.
Hey Vosk,
Mainly reached up to say thank you for your videos. I appreciate how open you in the way you share your experiences, even honest mistakes. It really helps me visualize what I would also like to do soon, in the next few years.
I'm a licensed electrician in Mass and I'm planning to get some land in NH and build my own house next year, probably with a lot of Tesla products since I work there. If I could return the favor and answer electrical questions, I would do my best.
Playing with the ideas in my head for a solar powered, water cooler system. Also the house would have geo thermal to add to the efficiency.
-Will
Hello, My name is Gabe and I am SUPER NEW to the Crypto world. I recently saw a Youtube video on Helium mining and so I want to learn how to make passive crypto thru mining if that is possible. Again, I am SUPER NEW so I dont know the lingo.
Hello, I have been following the YouTube channel for awhile. I ordered a helium miner from syncrob.it still waiting. I really wanted to try mining something so I tried to use my old gaming rig to mine btc. Not enough hash. I since have ordered a L3+ to get something running. I cant wait to start tweaking. I have been building computers since the late 80s and love tech.
Hello World ( Basic 1978 TRS80 computer )
Show me the money! ( GPU MPU algorithm's at a speed of atom smashing )
Good luck to every one.
Dallas Texas
Hello, im from Ecuador
Im a new to cryptos, i used to buy and sell, but the theme of rig and asic´s got me.
so i wanna get some knowledge, training, and be part of the big community!.
Hopes are hi!, cuz ive seen lot of your videos.
and i love the way you promote and advice all of us so we can learn from the experience that you earn.
Thanks all!
YaOoooWwww!!!
New to the Forum and I've only been watching the VoskCoin YouTube channel for about a month now but I'm watching as many videos as I can as I'm a really busy guy and not ally don't ever watch YouTube, TV, or any media platform unless if it's business related (I'm a general contractor and real estate investor) but so glad I stumbled across Vosk, his Channel, and of course his boss Tails Shout Out to the cutest Doge on the Planet, and that's coming from a CrazyCatGuy so you know its the Truth!
@Voskcoin Just wanted to say you rock Man! You're making the content for all the right reasons,you can tell you really just want to share your knowledge of crypto and mining and you know there's enough pieces of the pie for everyone and I think that's awesome! I've been into GPU mining for a long time, I used to mine Data for SETI back before crypto but after the China ban I knew I had to get back in. I've been GPU mining since but I'm about to pull the trigger and order my first ASIC through the also awesome guys at MiningSindicate.com Chris Koerner is another CryptoCrazy guy that just wants everyone to get a fair shot.
If anyone can point me in the right direction I'm currently researching the ASICS I can actually find and order and having a tough time deciding do I buy one big expensive miner or a small rack of cheaper units because when I do the math I'll get a higher hashrate with the rack… specifically the Antminer S9… am i missing something as in, are they going to continue to be profitable?
Anywho… Glad to have found this Veritable Plethora of Wisdom and Awesome people!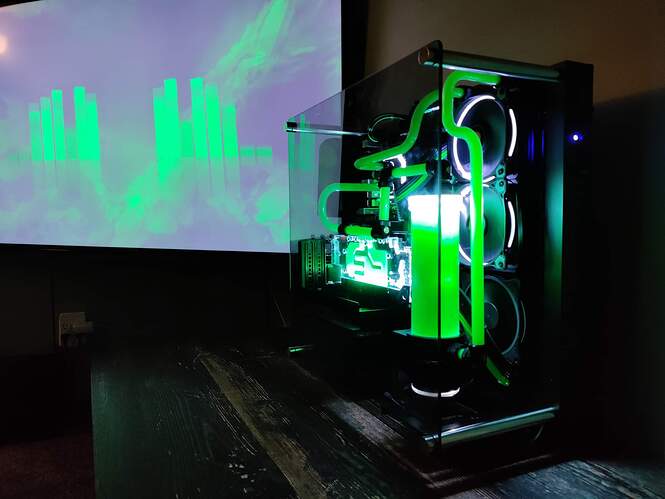 Hi everyone from Belfast Northern Ireland. I'm absolutely new to this & wanting to learn.
Any advice on how to start of in mining & what kinda miner I can use as a startup?
Oh… Any advice on how to setup would be great as I've no idea. Thanks in advance