Prices seem to good to be true
I have placed several orders with dxpool. They are legit. Just watch out for scam sites as they can be convincing. @NachLibre @mrgiz13
I have no experience with this but I have seen a lot of folks use the restaurant style metal racks. You can get them at home improvement stores for a reasonable price. I've seen ASICs piled on them along with GPUs clipped to the wiring.
Yep, it's legit - they are a Goldshell reseller with only about a 10-15% markup from Goldshell's prices. Just make sure you are going to Dxpool dot io. I've ordered a few miners from there. They actually ship faster than Goldshell.
I would suggests a Coinbase account/wallet. yes, you do have to pay with Crypto. have your currency ready in a stable coin, like USC. If you wait to move it, they may sell out before you get a chance to buy one. Also I've noticed that sometimes coinbase will require a proof of identity for large transactions. So you don't want to wait 3 days or whatever. So have your Drivers License handy to validate your account. IF you use a wallet outside of coinbase, you'll likely need Etherium in that wallet as well to pay for any gas fees (network fees - you paying the miners to confirm your transaction). Gas fees are high, fyi. What a world we live in. haha. Best of luck.
I saw these mini Doge miner with colored lights on eBay
Do you know what the price will be? Can we buy multiple units?
Did they give you the code to order them?
Hey guys. Looking for some help. I tried to buy the CK box today on goldshell and I kept getting an insufficient funds message. I have more than enough in usdc. not sure what I am doing wrong or if it is a coinbase issue. Any help would be appreciated.
Will you supply a link to these miners before the sale?
Thank you do you know if they will be the same price as the others and if you were to buy one would you use their PSU or would you use a different one?
This EXACT same thing happened to me a couple weeks ago and I ended up missing out. The next time, I did not choose to do the Express checkout option with "Pay with coinbase". This time I selected USD Coin from the "or select a cryptocurrency to pay with another wallet". I still used my coinbase wallet address, just didn't use the express checkout.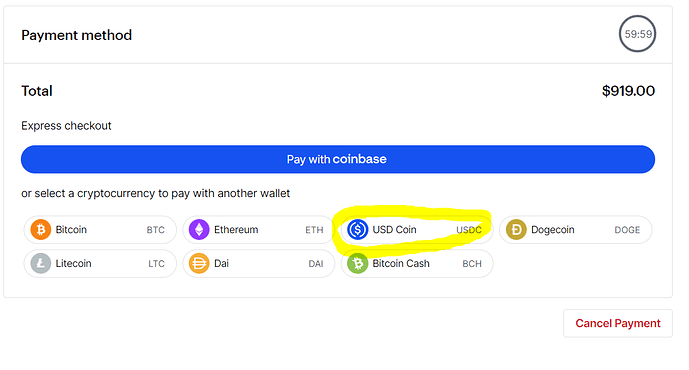 I had to paste in my wallet address in order to connect to the correct wallet. But I was able to proceed with my order. Once I sent the funds, the Payment screen refreshed after a few seconds and said my order was sent.
Everything will be the same as the other Doge miners. It's just a special edition branding thing. But the miner is the same as the traditional one.
I had this happen to me when buying my Bobcat 300 back in Dec. I ended up having to send in my payment manually and it took them a little over a week to find the transaction. After MANY emails etc… I almost gave up and figured I just lost my money… If this is happening on goldshell too this might be a coinbase issue. I had 2k in usdc in my wallet and they said I did not have enough funds to pay for the Bobcat… hmmmmm
Wish they would give the VoskCoin followers first dibs on the miners…

thanks for feedback. I will do that.
Thank you. I will do that. Will i need ethereum to cover gas fees?